Fall Under the Spell of Camille Chew's Art
If great art has the power to bring people together, then great artists can truly change the world. Artist and changemaker Camille Chew (@lordofmasks) has us totally under her spell. Chew's astrological patterns, occultly artwork, and the witchy vibes in all of her pieces are nothing short of magical and never fails to stop you in your tracks (or mid-scroll). From book covers to giant masks and tarot cards, she does it all. We talked to her about the process behind her design "Hold On," the amazing work she's been doing, and, of course, about her favorite tarot card.
.     .     .
First things first, what have you been up to lately! Any projects you're excited about?
"I've been busy working on personal projects and some fun client projects. I recently illustrated my second book, The Astrology of You and Me, and redesigned my witch series illustrations into a sixteen-month calendar called Modern Witch with Andrews McMeel Publishing. Both are out now!"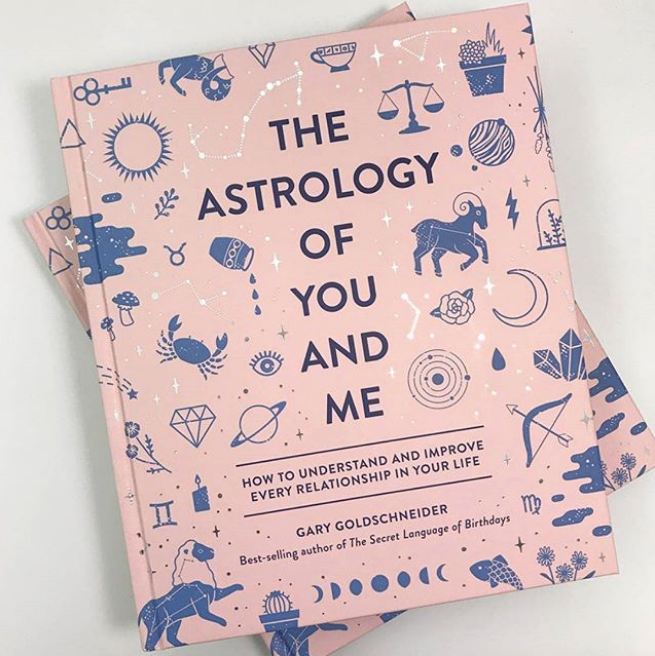 Camille's cover for the upcoming book,
The Astrology of You And Me
(via
Instagram
)
Your book illustrations are super cool! Is this a new endeavor? 
"It is! I illustrated my first book, Basic Witches, last year. The publisher, Quirk Books, got in touch with me from seeing my artwork online and thought it'd be a good fit. The book is a humorous, modern-day guide to witchcraft and the authors,' Jaya Saxena and Jess Zimmerman, take on witches matched up so perfectly with how I portray them in my own work. It was really a dream project, and I got to work with Quirk again for the astrology book, too. I definitely hope to continue illustrating more books in the future."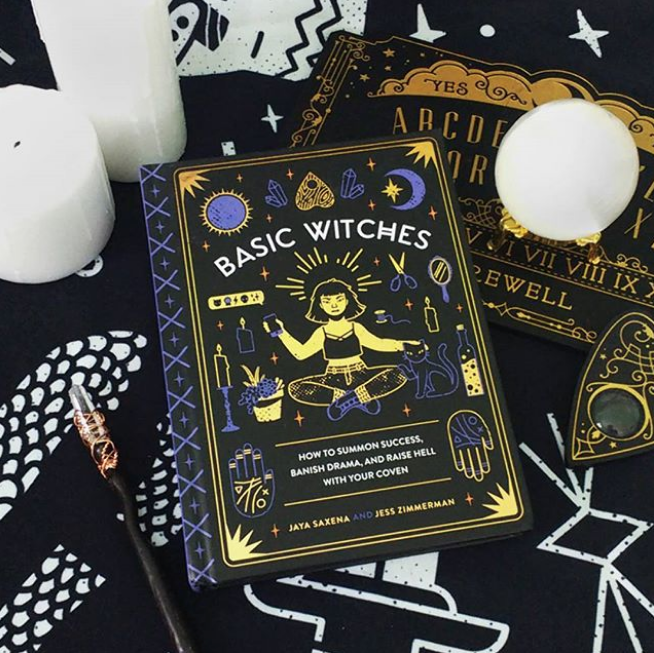 Camille's cover for
Basic Witches 
(via
Instagram
)
Do you have any witchy wisdom we can use in our everyday lives or for creative inspiration?
"I think a lot of witchcraft is about getting in touch with yourself and the world around you—certainly things that can help when you need some creative inspiration. And making art, creating something out of nothing, is always a little bit magical."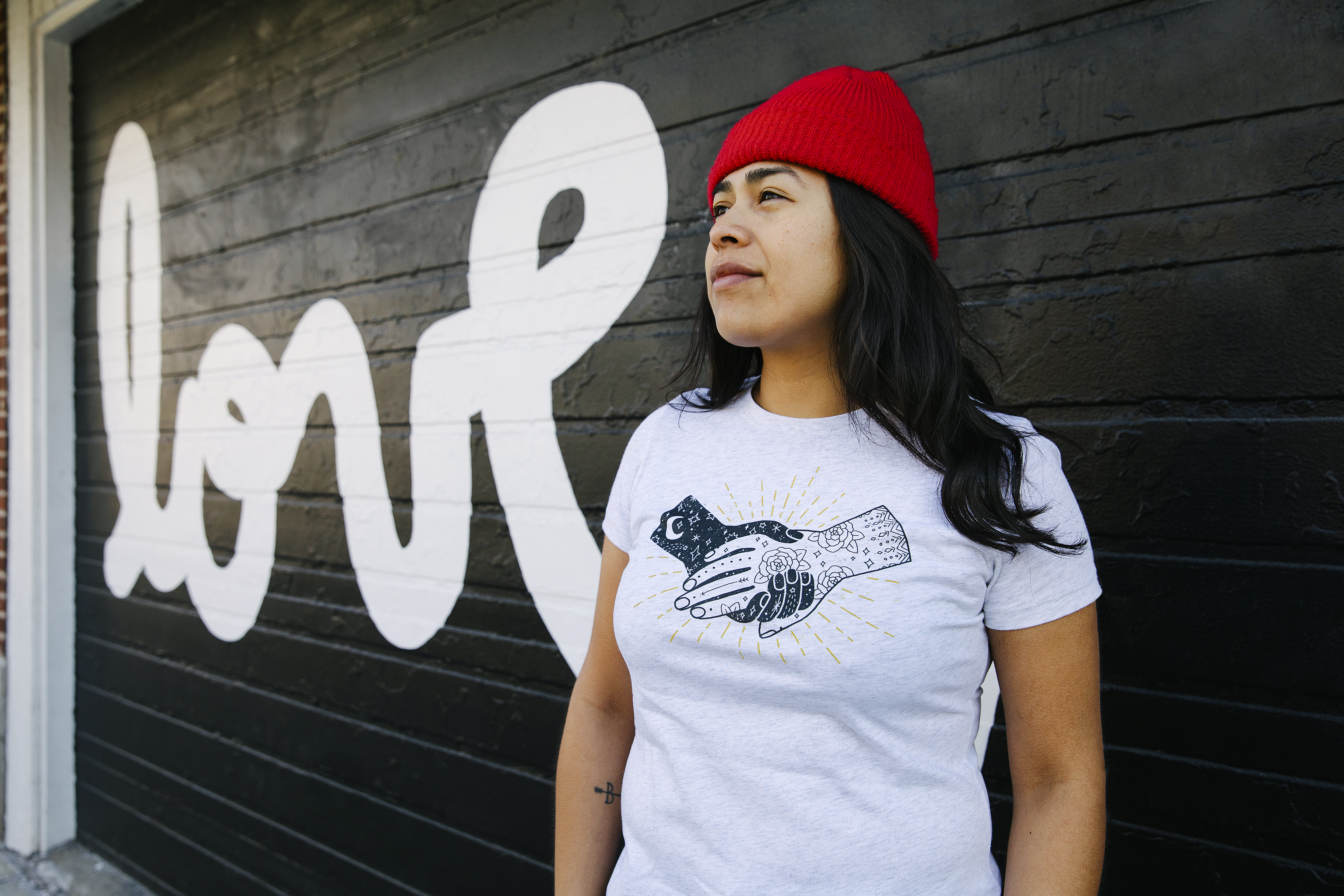 Tell us a little bit about your "Hold On" design. What inspired it?
"The design was originally going to be a Valentine's Day card, but I wanted to do something that would work as an illustration outside of that context as well. I'm a little obsessed with drawing tattooed hands, so I of course wanted to use that, and holding hands seemed like a good way to portray the feeling of love."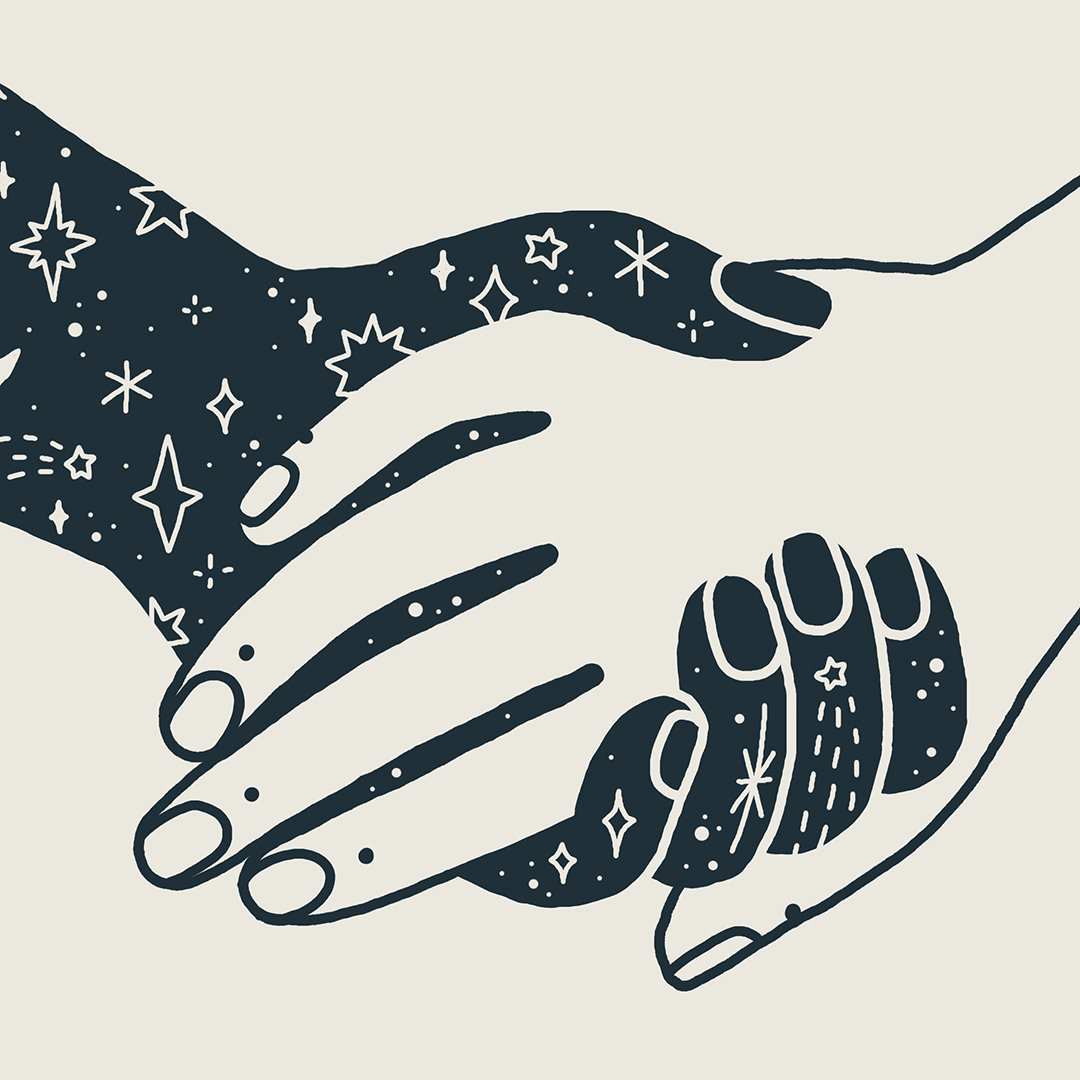 What was the process behind this design? 
"It was my usual process of scribbly thumbnail sketches to figure out composition, choosing the color palette, and then drawing it all in Photoshop using a tablet."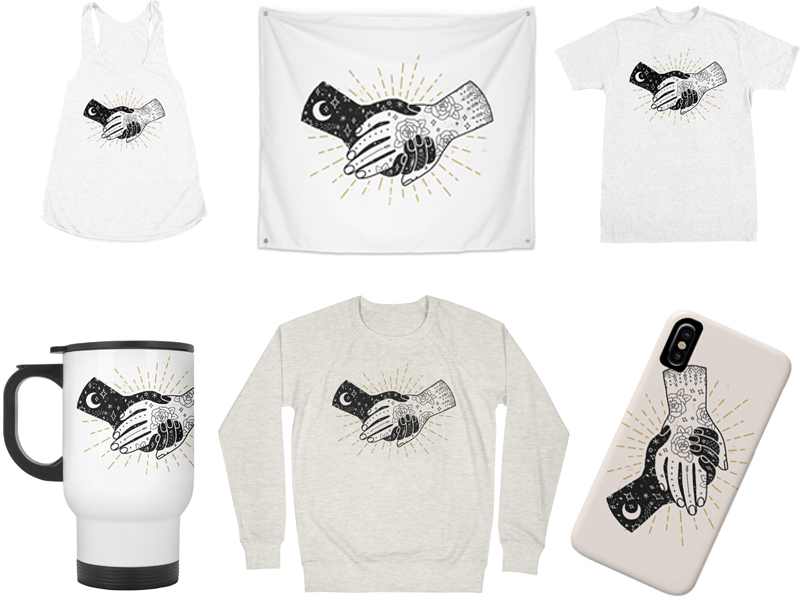 "Hold On" on just a few products! See more
here
. Top row: tank, tapestry, and triblend tee. | Bottom row: travel mug with handle, sweatshirt, and phone case
You did some tarot cards recently, too! What was that like? Can we expect a full Lord of Masks tarot set?
"I illustrated several cards for The Asian American Literary Review's tarot project reimagining the major arcana through an Asian American lens. The cards can be used as a tool for healing and opening discussions on mental health within the Asian American community. It was really fun reinterpreting traditional tarot imagery to accompany the new meanings for each card. I've also started working on my own tarot deck, just in between other projects. With seventy-eight cards to do it'll take a while, but eventually, I do plan to have a full tarot set."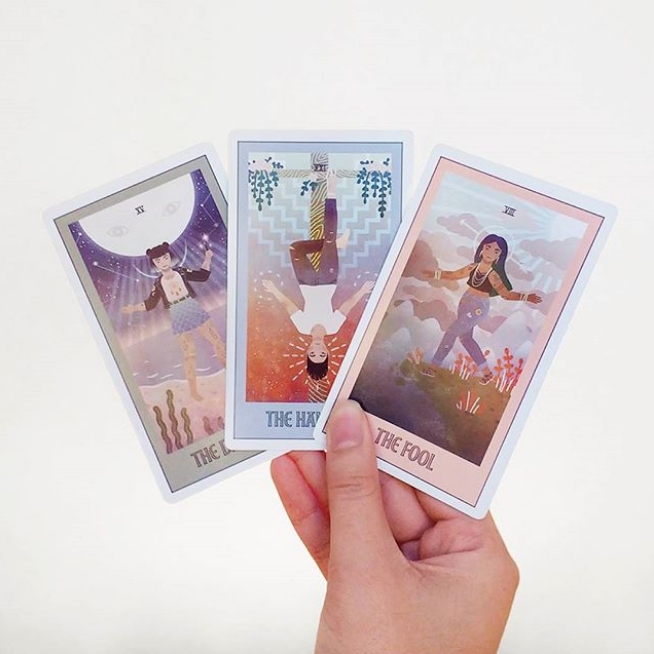 Do you have a favorite tarot card?
"My favorite tarot card is probably The High Priestess; she's all about intuition, mystery, and tapping into the subconscious mind."
"Witchcraft" Bucketfeet design
"Strange Fortunes" Bucketfeet design
Do you have any creative New Year's resolutions? 
"My creative New Year's resolution is to stop procrastinating and to get better at time management so I can get more art done! I have several personal projects I'd like to work on in between client work this year---completing some new illustration series, continuing the challenge I started last year to draw a new pattern every month, and making new merch like enamel pins, patches, or custom washi tape."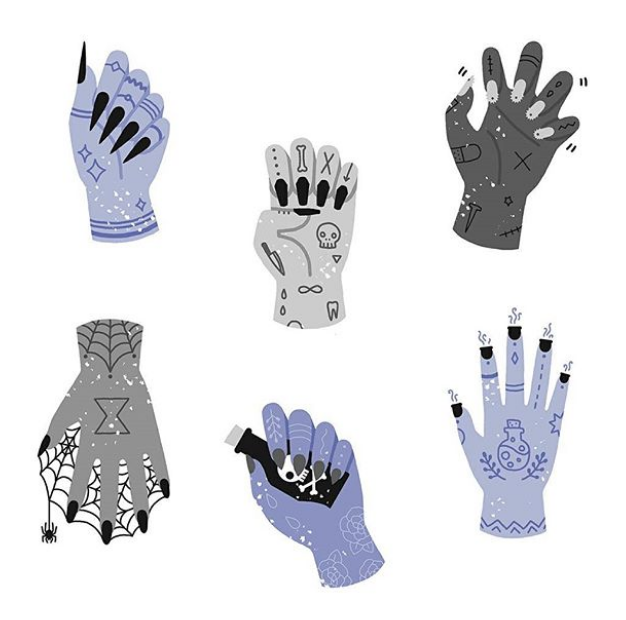 Nail art images and hands from
Basic Witches
(via
Instagram
)