Young and Sick's Music-Fueled Art
Some artists stick to one creative discipline and run with it. But others can't be contained to only one art form, and Dutch musician and artist Nick van Hofwegan—or Young & Sick—falls into this category. If you don't know him for his music, you certainly know him for his art. His artwork got him a foot in the door of the music industry, landing album art gigs with Maroon 5, Mikky Ekko, Foster the People, and more. Now, his psychedelic artwork plays perfectly off his dreamy, lush tones, looking the way his music sounds. As he said...
"It's always been music and art for me. When I feel like I've hit a block on one side, I'd just switch. This method helps keep things fresh for me."
We talked to this multi-talented creative about his music, his artwork, how he balances the two, and the rad designs he created for his Artist Shop and Bucketfeet shoes. May we suggest playing his music in the background while you read all about him?

First thing's first, you just had a hot new EP drop! Tell us about it.
"There has been a bit of time between my last release as Young & Sick. With this EP, I am excited to show the range of what the next phase of this project will look like."
I read an interview with you in NYLON about quitting the 9 to 5 life to take the full leap into the creative world. What was the final factor in that decision? How did you get your start in the music industry after taking the leap?
"I was pretty checked out of my day job for a long time before I officially quit full stop. After a while, I was working as few days as possible so I could just make rent. The rest of my time would be spent making art. It's always been music and art for me. When I feel like I've hit a block on one side, I'd just switch. This method helps keep things fresh for me.
When it finally felt like I could slide by on just making art, it was a no-brainer. Like many other musicians, my early career started by simply releasing music on SoundCloud and MySpace. My earliest industry relationships started there. It's been an unfolding process ever since."
"
Arrowed
" from Young & Sick's Artist Shop
You have such an extra creative edge because of your art and music balance. What first got you traction in the creative world?
"My art brought me the first significant moment in the creative world, but music soon followed. Under the encouragement of a teacher at my design school, I made a piece of art for a band I loved: The Velvet Teen. I sent it to them randomly via email, and they wrote back. They loved the piece and wanted to use it for a piece of merch. Through their manager, I met Mark Foster, who would go on to become Foster the People. Designing that piece, and having the band get massive, was the first time one of my pieces was seen on such a large scale."
The album art Young & Sick did for Foster the People's Torches album art 
Did designing artwork and album covers for other artists help you figure out what you wanted the art for your OWN brand to look and feel like?
"It certainly helped! Every creative needs to go through a large volume of work to really find their own voice. All the various projects certainly helped me find mine."
Your music has such a lush, ethereal sound. Who are some of your musical influences? What inspires you the most?
"My influences change every day. My taste is pretty eclectic, so it's hard to pinpoint any one or few acts. More than being inspired by music, I find inspiration in simply living life in a foreign country—the U.S."
Tell us about your Artist Shop and Bucketfeet designs!
"They are inspired by the recent music I've been putting out. Bucketfeet the designs are inspired by the tracks in which they are titled. The Threadless Shop has a different angle. The idea is the collection will change as the stages of Young & Sick progress. Everything will be for a limited time, and once I change the collection, the old collection will be retired. I'm excited for this, as it will allow me to keep everything fresh and interesting. I've always loved how bands like The Grateful Dead have endless designs floating around. If I can be a fraction of that one day, it would be a dream.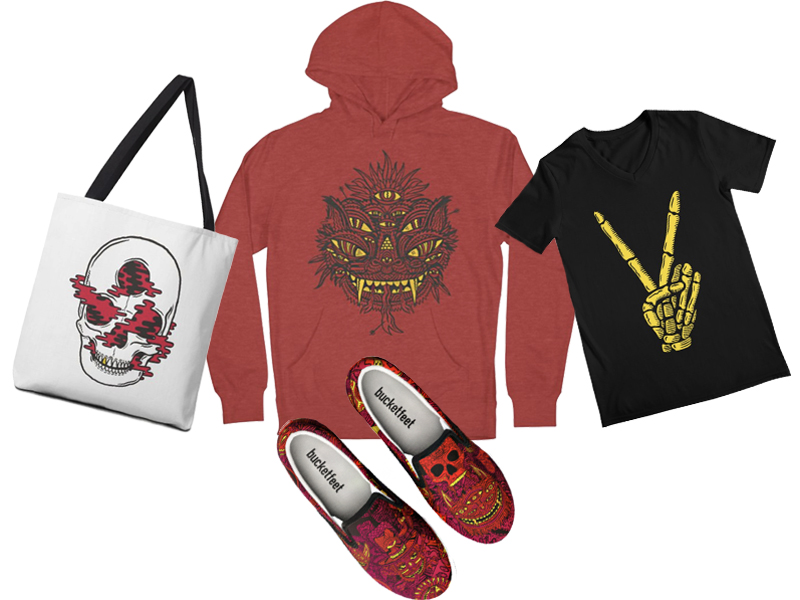 Just a few of the designs and products featuring
Young & Sick's rad art.
 Featuring "
Ghosts
" on a tote bag, "
Arrowed
" on a pullover hoody, "
PAZ
" on a women's v-neck, and "
Dreams
" on Bucketfeet.
If you could pair a song with each of your Artist Shop designs, what song would go with each design?
"Per the above, it's really more of a mood/space I'm currently in. As I get close to releasing new material, a new tour, perhaps a cover… the whole shop will change and old designs are phased out. Excited to use this to keep things fresh."
Via Instagram
Does making art usually lead to music or does creating music lead to art?
"As I said above a bit, it's really super symbiotic. One hand always feeds the other. I wake up in the morning, eat some food, and just decide what I most feel like hopping into in the moment. The second I feel myself slowing down on the specific medium, I just switch over. I'll go back and forth like this all day, really."
You chose to stay anonymous for a long time—why did you choose to go that way? What changed your mind?
"It wasn't so much about being anonymous as much as it was about letting the music speak for itself first and foremost. My appearance didn't—and still doesn't—matter."
What's the most important thing you've learned while building a creative career for yourself?
"Don't try to get a career in creative. Terrible idea."
Anything else you'd like to share?
"The vinyl I made for this release is super special. It's one of the wackiest, in-depth pieces of art I've made. I think they are pretty limited through the label, but I'd definitely recommend checking it out: YnS.lnk.to/k0W89"